Wireless Networks 101; Day 1:


Learning about networks:

Learning about networks is not like learning arithmetic. In arithmetic, you learned to add, because having more is good. Then you learned how to subtract, because what's the point of having if you are not spending? You learned one skill at a time, then moved on to the next skill. Like a train; first the locomotive, then the coal car...

Networks require a different model of learning. When you learn networks, you cover all the bases, but just skim the surface. Learn the terminology, see how everything connects to everything else. Then you go back, and cover all the bases in greater detail. This is done over and over, one layer of complexity after another. Like a painter who roughs in a sketch with a pencil, then washes in great swaths of background color, then gets to the fine details. If you get a sense of deja vu while studying networks, you are doing it right.

Unlike other fields of human endeavor, we do not necessarily define terms the first time we use them when learning networks. You would be drowning in details, we would be sidetracked endlessly.

Lesson 1: Terminology, Components and how they interact

Protocol:

The true and proper meaning of protocol is "rules for communicating". IT people use it to mean rules for communicating, or programs written based on those rules, or tools available in the operating system to troubleshoot networks, or...

TCP – IP – Transport Control Protocol – Internet Protocol

– is actually a suite of many protocols, and programs based on protocols, and implementations of things required by protocols.

b/a/n/g: The major wireless protocols:

There are four major types of wireless network at this time. The network types are known by the designation number of the IEEE ( Institute of Electrical and Electronic Engineers ) committee that developed the standard. The following remarks are my opinions. Yours may differ:
802.11b: Yesterdays news. Think 8-track. Slow.

802.11a: The Betamax of WiFi. Uses a different radio frequency band than b/n/g

802.11g: The current stable, tested standard. Cassette tape. Convenient, but with flaws. 11 – 54 mbps throughput.
802.11n: Cassette with Dolby. Not a major improvement. Uses 3 channels to triple the throughput. Number of channels available to WiFi users that do not overlap: 3. Don't leave anything for the neighbors. Also uses the 5.8 gHz band used by 802.1a. 100 – 200 mbps
You will note that b,a,n and g are lower case. IEEE uses lower case for standards and upper case for recommended practices.
WiMax will be the analog of CDs and DVDs, in my hardly humble opinion.
The components that make a Wireless Network and what they do:
Two components, working together, make up a wireless connection: the
Access Point ( AP )
, and the
client
.
The AP is the source of the wireless network, and the link to the wired network. The AP is the senior partner, the faculty in this school. Clients look for, and associate with, an AP.
The clients are the junior partners, the student body. They request to associate with the AP. Clients have and need software to look for APs; APs may advertise their presence, but do not seek clients.
A wireless device is two network interfaces connected together; a radio transceiver on one side, and an ethernet interface on the other side.
What an AP is:
An AP is an interface between a wired Ethernet network and the wireless network it creates. It is an ethernet card interfaced with a radio. It allows users to access the wired network without a physical connection. It has a controller that is programmed to configure the wireless network. It has a name for its wireless side; an SSID. It has a frequency, selected from one of 11 channels available in the USA. It has a range, determined by many factors which will be covered later.
A totally wireless network can be created using an AP.
The two major types of AP:
APs come in two major types: An AP, which performs the single function of connecting a wired network to a wireless network it creates, and wireless routers. Most home networks use a wireless router. The wireless router is actually a small server which contains an AP and other items that combine to create a network in a box. A server is a computer that:
Performs one task, or a limited number of tasks,
Is designed to be reliable,
Is configured once and left to do it's work,
Does not need a keyboard, monitor and mouse on a regular basis.
Typical SOHO wireless routers include:
A router; a device which connects two networks together
A firewall; a device which shields the network from intruders
A DHCP server: This assigns IP addresses and related settings to clients
An AP
A switch, a device that turns one wired connection into many
An interface that allows the administrator to configure the router.
You can have many clients associated with one AP, but only one AP at a time associated with a client.
Clients:
What a client is:
A wireless client is a radio transceiver on one side, and an ethernet interface on the other side. It has a controller that allows the administrator to configure it. It has software to find and connect to wireless networks.
What a client does:
A client is a device that:
Discovers APs and reports the discoveries to the OS or proprietary software.
Connects to an AP. We call this "associating"
Transfers data between the host – the device the client works for – and through the AP, to the network the AP serves.
Transfers data between the network the AP serves, and through the AP, to the host.
Clients come in three major types:
Fixed internal
; typically a PCI card in a desktop PC or a MINI PCI card in a laptop: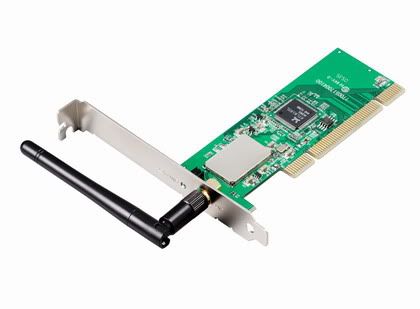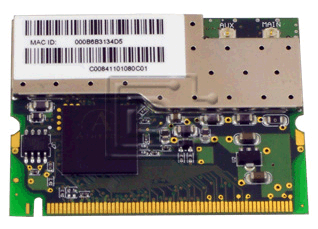 The fixed internal client is a component built into a laptop or desktop computer. It is usually installed once and left alone. The client makes a wireless connection between the computer it is installed in and an AP. Most clients for desktop PCs have detachable antennas, allowing the substitution of external antennas. Laptop computers usually have an antenna built in.
Removable
; usually USB; or the obsolescent Cardbus: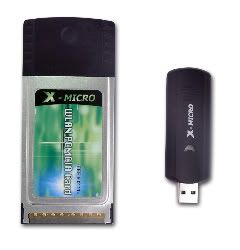 Removable clients are temporarily installed. Commonly used in laptops; to provide wireless connectivity to very old laptops that did not have wireless connectivity built in, or to replace a defunct built in component in newer laptops. They don't have the size to contain a proper antenna, or the surface area to dissipate the heat of a powerful radio. USB clients re limited to 5 Volts at 100 milliamps. These clients provide a wireless connection to the computer they are temporarily installed in.
External
; a wireless bridge: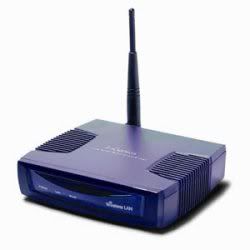 External clients are a stand-alone component of a wired network. They do what the AP does, but in reverse. One ethernet connection and one radio, interfaced. The wireless bridge associates with an AP, connecting one wired network to another wired network, using a wireless link. The ethernet side of a wireless bridge is typically connected to a switch, which allows many users to use the wireless bridge as a client. Some wireless devices can be configured to operate as either an AP or a wireless bridge. Wireless bridges usually have detachable antennas, allowing the substitution of external antennas.
Switch: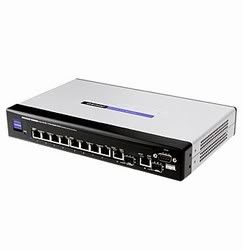 A switch is a wired network component used in conjunction with wireless devices. This device allows the connection of multiple devices like IP cameras, laptops, et cetera, to an AP or wireless bridge with one ethernet connector.
Putting it all together: A simple wireless network
Start with an internet connection, represented here by an RJ-45 connector: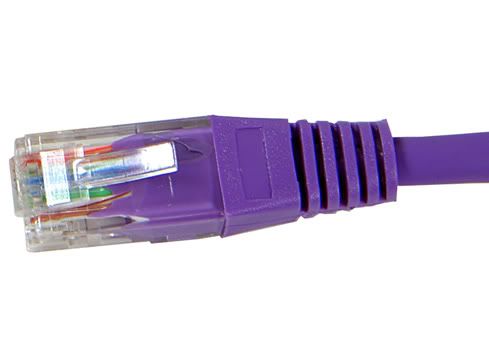 Connect the internet to the WAN ( Wide Area Network ) port of a wireless router. We will use a Linksys: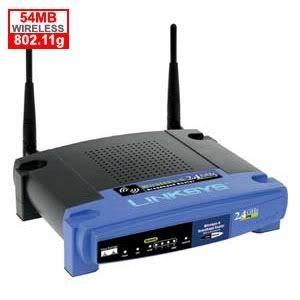 Add a few clients to the wired LAN ports or the wireless connection: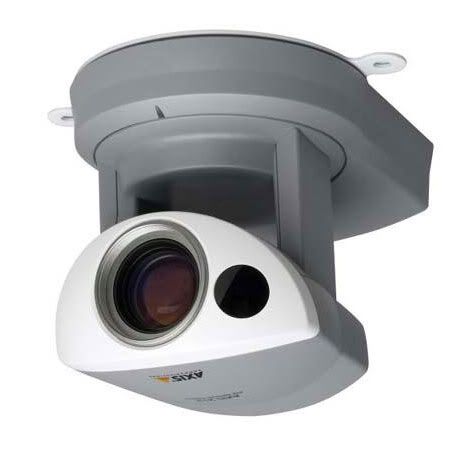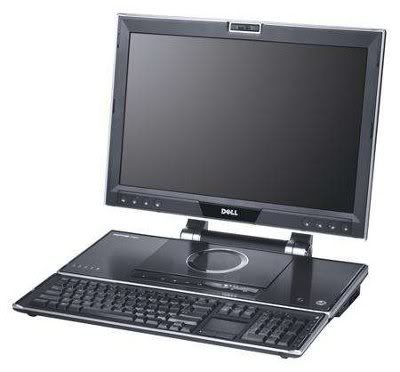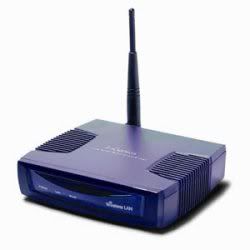 you have a simple network, with one wireless router acting as the hub in a wheel.
But not just yet. First you have to configure the components to work with each other.
Things to remember:
Two components make up a wireless connection;
The Access Point
The Client
The Access Point gives the network a name; the SSID
A Wireless Router contains an Access Point
Some wireless devices can be configured to operate as either an AP or a wireless bridge.
Many clients may associate with one AP
Any client can associate with only one AP at a time.
There is a type of stand-alone client called a wireless bridge. This may be connected to a switch and provide many RJ45 connections for multiple users.