| | |
| --- | --- |
| | |
01-21-2008, 09:06 PM
Junior Member

Join Date: Jan 2008

Posts: 2
How many AP's do i need?
---
Hi all, im soon to setup a wireless bridge for a friend.

There is 2 buildings involved, they are approx 100-150 feet apart with line of sight. my aim is purely to provide internet access to what is really an out-house for now.correct me if im wrong please, i was thinking i would need 4 AP to do this, i had the Linksys WAP54G's in mind. with these i would have 2 of the AP's in bridge mode to create the 'link' between the two buildings, and another 2 which would be connected to each of the access points in 'bridge mode' at either end. allowing the laptop to connect. any help is greatly appreciated!

due to the location of the access point which will be in line of site, they will be to high up in the building for the wireless to reach down to ground level, so a cat5 cable will be run from the access point in 'bridge mode' down to ground level where the access point in normal would be, which is the one the laptop would connec to. sorry ifthis souds confusing, would be easier if i could draw it!

01-22-2008, 10:16 PM
Junior Member

Join Date: Jan 2008

Posts: 2
---
This is an example of what i want to do, but i need to have wireless at secondry end, so would i configure a wap54g in access point mode and plug that into the wap54g configured for the bridge mode. so in theory i would really only need 3 wap54g's?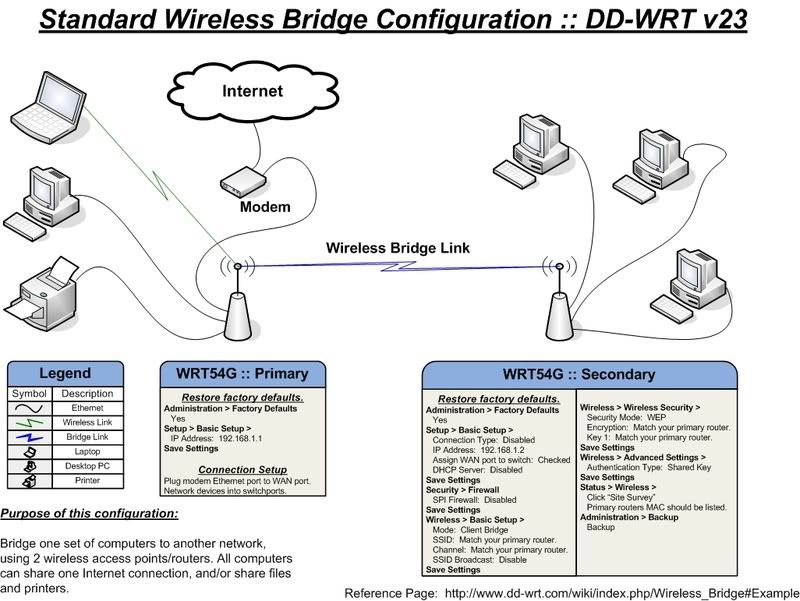 01-29-2008, 11:50 AM
Junior Member

Join Date: Jan 2008

Posts: 6
---
u have mentioned that the 2 are 150-200 feet apaet, y do u require a point to point access in that case, there are a few antennas out there that have a capability of trasmitting to distances as far as 100 metres.

get some high power (12db) Cisco antenna's, but u'll require Outdoor access points for that.

Posting Rules

You may not post new threads

You may not post replies

You may not post attachments

You may not edit your posts

---

HTML code is Off

---